5 Inground Pool Enhancements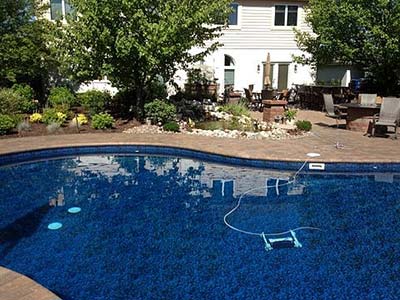 An inground swimming pool is an excellent addition to any backyard, providing a perfect spot for fun and relaxation during the hot summer months. A basic pool is great. However, there are many enhancements you can make to take your pool to the next level.
The designers at Statements in Stone are creative and knowledgeable and work with clients to understand their needs and design customized pool additions and enhancements.
Inground Pool Enhancements Tips
Here are a few inground pool enhancements you can consider:
Pool Jacuzzi/Spa - Adding a pool Jacuzzi or spa to your inground pool will create a perfect spot for relaxation and luxury. Jacuzzi jets can provide a relaxing massage after a long day, while a spa creates an ideal spot for conversation and relaxation. Both features have specific uses and benefits, and skilled professionals will help you make the best choice for your needs.


Pool Waterfall - A pool waterfall is a stunning visual feature that can add an elegant and calming ambiance to your landscape setting. The soothing sound of the waterfall will create a perfect spot for relaxation and add to the overall aesthetic appeal of your pool. Some homeowners like the idea of installing a grotto which makes a small private space behind the rock waterfall, and you can also explore this option.


Pool Water Slide - Adding a water slide to your inground pool can make it more enjoyable, especially for children. A water slide can also create an exciting visual feature that adds to the overall ambiance of your backyard. You can add the water slide to a kiddie pool to improve safety.


Pool Mini Bar - A pool mini bar is ideal for entertaining guests and relaxing with friends and family. A built-in bar structure near the pool can provide easy access to drinks and refreshments, making your backyard the ultimate place for summer gatherings. Mini bars can be as simple or elaborate as you want them to be, and the styling and finishes should complement your inground pool and its immediate surroundings.


Pool Beach Entry - A pool beach entry creates a stunning and inviting entrance to your pool, providing a beautiful transition from your backyard to the water. This feature also makes it easy for kids and those with mobility issues to enter the pool. The potential of creating a pool beach entry will depend on the available space and other features and installations in the outdoor area.
Enhancing your inground pool with features such as a pool Jacuzzi or spa, waterfall, water slide, mini bar, or beach entry can make your pool more enjoyable, luxurious, and visually stunning. These enhancements will also add value to your property and make it the ultimate spot for entertaining and relaxation.
Custom-Designed Pool Enhancements
We encourage clients to consider these enhancements to take their swimming pools to the next level and create the ultimate backyard oasis. The design and styling of these feature matters just as much as the material quality, and you need professionals to plan these structures and installations. When you engage the services of skilled and experienced professionals like us, you can be sure these additions will provide true value and create the best outdoor spaces for you and your family.
For details about our services and how we can help with your next inground pool enhancement project, call the Statements in Stone experts at 708-534-8780. We can plan and install your property's most stunning and functional features. If you prefer to email us, please use this Online Form, and one of our team members will call you back to discuss your project details.
We Provide Services to the Following Cities, Towns and surrounding areas in IL:
Contact Us for a Free Estimate