Hardscaping In Mokena, IL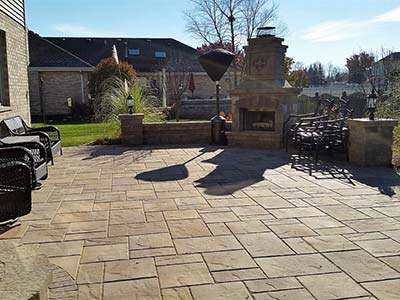 Statements in Stone, Inc. is the go-to business for superior hardscaping services in Mokena, IL. We understand the importance of well-planned and executed masonry and hardscaping in the outcome of any landscaping endeavor. No outdoor area can be considered complete without masonry elements, and we work hard to find creative answers for our customers.
Further, we know residential areas serve a different purpose than commercial ones. Our team plans and constructs these spaces using a unified process to ensure they are in harmony with the rest of the structure.
Variety of Hardscaping Services
We provide low-maintenance options that result in attractive and practical outside areas, and our work increases the value of your home. Among the many hardscape options, we provide are:
Paver Decks and Patios
If you want to create a unique backyard but are having trouble finding a reliable hardscape contractor, we can help. Pavers are built to withstand years of use and a wide range of climates. In contrast to poured concrete, self-contained modules don't deteriorate with time, so they're great for patios, decks, and high-traffic areas like pathways and trails. Choose one of our paver patios for a long-lasting, aesthetically pleasing addition to your landscape. We strive to make our services more cost-effective for our customers by emphasizing the importance of customization.
Paver Walkways, Pathways, and Driveways
Paved surfaces are an excellent option for enhancing the visual appeal of your landscaping and giving your outdoor spaces a unique character. Including well-planned roads, walkways, and pathways in your landscaping can do wonders for your home's visual appeal and the entire yard's functionality. We will help you construct attractive and practical walkways in any aesthetic you like.
Adding walkways made of pavers to your property may have several benefits, including creating functional pathways and enhancing the landscape's aesthetic appeal. Pavers are available in various shapes, sizes, designs, and colors. By working with us, you can be assured that the paved parts of your property will look just as lovely as the rest of your lawn and garden.
Driveway Pavers
We design and install customized driveway paver surfaces to provide well-planned exterior spaces and easily accessible yards. To make the outdoor areas of your home look neat and well-planned, we set up pathways in the appropriate locations and design them accordingly. We'll check that your property's walkways have uniform components and a practical layout.
Retaining Walls
Retaining walls aid in improving landscape stability and overcoming issues related to soil erosion and sloping terrain. They are commonly recommended for areas of uneven terrain outside. Thanks to these high-quality structures, the reduced risk of floods is just one more way your environment benefits from their presence. By incorporating plants and seating into the design, our professionals can make aesthetically pleasing and functional elements. We'll build a wall that will hold up and look good at the same time, increasing the value of your home and making an excellent first impression. Masonry, brick, or stone are commonly used in building such structures.
Custom Designed Hardscapes
In addition to these hardscaping elements, we also design and install water features, fire features, garden steps, seat walls, porches, raised gardens, fences, and more. Our creativity and the use of top-quality materials ensure that you get great exterior spaces with resilient and long-lasting hardscapes. We provide 3D designs and complimentary quotes for paver installations and cover all our work with guarantees. Our uniqueness lies in providing high quality at cost-effective pricing.
If you are looking for high-grade hardscaping and landscapes in Mokena, IL solutions, please call Statements in Stone, Inc. at 708-534-8780 or send us your queries through this Contact Us form, and we will call you back soon to discuss details.
We Provide Services to the Following Cities, Towns and surrounding areas in IL:
Contact Us for a Free Estimate