Outdoor Kitchens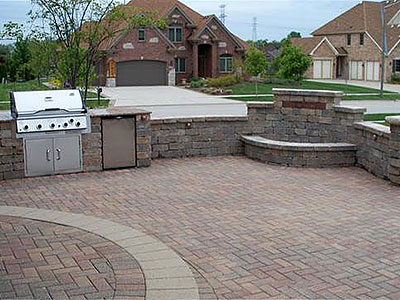 Welcome to Statements In Stone, Inc, your premier destination for outdoor kitchens in New Lenox, Illinois. We specialize in designing and installing custom outdoor kitchens that are functional and add beauty and value to your outdoor living space.

Our team of experts has years of experience in designing and installing outdoor kitchens of all sizes and styles. We are committed to delivering the highest quality services to meet the unique needs of each of our clients.


Outdoor Kitchen Design and Installation Services
We offer a wide range of services when it comes to outdoor kitchens. From design to installation and maintenance, we've got you covered. Here is a closer look at some of our top services.

Our team of experts will work with you to create a custom outdoor kitchen that meets your specific needs and preferences. We'll consider your style, budget, and space constraints to design a kitchen that is not only functional but also aesthetically pleasing. We offer varied design options, including traditional, modern, rustic, and more, to suit your taste.

Our installation process is designed to be quick and efficient, minimizing disruptions to your daily life. We use only the highest quality materials to ensure that your outdoor kitchen is beautiful but also durable and long-lasting. Our team of professionals will work with you every step of the way to ensure that your outdoor kitchen meets your exact specifications.


Various Features for Outdoor Kitchens
We offer a wide range of features to enhance the functionality and beauty of your outdoor kitchen. Here are just a few of the features we can incorporate into your outdoor kitchen:


High-quality grills to suit your needs, including gas, charcoal, and electric grills. Our grills come in a variety of sizes and styles so that you can choose the perfect one for your outdoor kitchen.
To suit your style and budget, we can use countertop materials, including granite, marble, and quartz.
Choose from stainless steel, copper, and porcelain, to add functionality to your outdoor kitchen.
Our custom cabinetry is designed to be both functional and stylish. We offer a range of materials, including wood, metal, and composite, to suit your style and budget.
We recognize the importance of lighting and offer options to enhance the beauty and functionality of your outdoor kitchen. From under-cabinet lighting to task lighting, we'll work with you to create the perfect lighting scheme for your space.
Benefits of Customized Outdoor Kitchen Services
Investing in an outdoor kitchen comes with a wide range of benefits. Here are just a few of the benefits of having an outdoor kitchen:


Increased Home Value
Convenience
Entertainment

We deliver top-quality services that meet each of our clients' unique needs. Whether you're looking to add an outdoor kitchen, a water feature, or any other outdoor living feature, we have the expertise to do the job right. So contact Statements In Stone, Inc. today at 708-534-8780 or fill out our online form to learn how we can help you transform your outdoor living space into a beautiful and functional oasis.

We Provide Services to the Following Cities, Towns and surrounding areas in IL:
Contact Us for a Free Estimate