Swimming Pools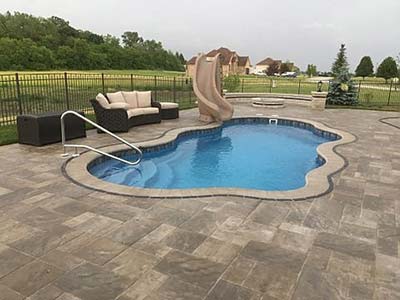 A swimming pool is a central feature required to create the perfect outdoor oasis. A professionally designed and installed pool creates a space for recreation for all ages, provides respite from summer temperatures, and creates beautiful views all year around. At Statements In Stone, we specialize in designing and installing/building custom pools for homes throughout South Suburbs, IL. From the initial phase to design, reviews, and construction, you can rely on the expertise and experience of our certified designers and builders to bring your vision to life.
Our Pool Installation Services
We have specialized experience in the installation of fiberglass in-ground pools. Our designers will work with you to help choose the perfect design or create a custom one. as with all other projects, we develop 3D designs so that you can visualize your pool even before we get started.
Our additional pool-related services include:
Pool Deck: We can install a brick paver or stamped concrete deck in designs that match your preferences and your backyard's dimensions.
Pool Accessories: If you think your pool needs additional features to enhance the experience, we can install pool slides, waterfalls, diving ledge, and grottos. You can also have custom rock features added to your pool.
Spas: We can design and install a spa as an addition to your pool or as a standalone feature. You can choose from a variety of built-in and stand-alone spas.
Custom Pool Design & Installation
You may want to create a natural, classic, modern, or exotic outdoor oasis. We can create just the perfect pool, no matter what your theme is. We begin by carefully listening to you to get a clear and in-depth understanding of your vision, needs, and budget. You can also rely on us to guide you through the latest trends and proven options.
When it comes to customized pool installation, careful design details make a big difference. Experience plays an important role in taking the design from the initial concept to transform it into reality. At Statements In Stone, we have over 20 years of industry experience. Our specialized and experienced team of pool designers and installers means that we have everything required to create the perfect outdoor oasis of your dreams.
Our robust warranty further means that you can have complete peace of mind. If you want to discuss your pool design and installation needs with us, feel free to contact us at 708-534-8780 or write to us.
We Provide Services to the Following Cities, Towns and surrounding areas in IL:
Contact Us for a Free Estimate