Outdoor Fireplaces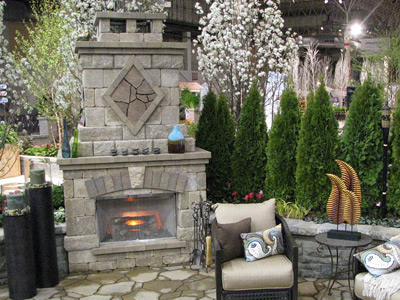 Outdoor fireplaces are a great way to extend your living space and add warmth and ambiance to your outdoor area. They come in multiple styles, sizes, and materials, and you can choose from wood, gas, or propane as a fuel option. Outdoor fireplaces can also be incorporated into an outdoor kitchen or seating area, creating a unique and functional space for entertaining guests.


Fireplace Materials to Choose From
At Statements In Stone, Inc., we provide our New Lenox, Illinois clients with the highest quality fireplace design and installation services. A custom outdoor fireplace allows you to create a unique and personalized design that matches your home's style and your personal preferences.

It can be designed to incorporate various materials, such as stone, brick, or tile, and can be fueled by wood, gas, or propane. You can choose from a range of fireplace materials, including:


Stone - Stone is a popular choice for fireplaces due to its durability, natural beauty, and versatility. You can choose from stones in many textures, colors, and patterns, making it easy to match any home style. We can create a unique fireplace design incorporating various stone types and sizes.


Brick - Brick is a classic and timeless choice for fireplaces, offering a traditional look and feel. It is durable, low maintenance, and comes in various colors and patterns. Brick is ideal for creating fireplace designs, from simple to complex.


Marble - Marble is a luxurious and elegant option for fireplaces, offering a polished, sophisticated look. Choose from multiple colors and patterns, from classic white to unique veined designs. Marble is also durable and easy to maintain, making it an excellent long-term investment.
Benefits of Outdoor Fireplaces
There are several reasons to install a fireplace, such as:


Extend your living space - An outdoor fireplace creates an outdoor living room, extending your living space beyond the walls of your home. It creates a cozy and comfortable atmosphere where you can relax, unwind, and spend time with family and friends.


Add warmth and ambiance - An outdoor fireplace provides warmth and ambiance to your living space, making it a functional and inviting area. It also allows you to enjoy your outdoor living space in cooler weather, extending the outdoor living season.


Create a focal point - An outdoor fireplace creates a focal point in your yard, adding visual interest and enhancing the overall design. It can be incorporated into the landscape or patio design, creating a seamless and cohesive look.


Increase your home's value - This fire feature can increase your home's value and appeal to potential buyers if you ever decide to sell your home.
Comprehensive Fireplace Design and Installation
We understand that choosing the right fireplace for your home can be a daunting task. It's why our team of experts is here to guide you through the process, from the initial consultation to the final installation. We work closely with our clients to understand their vision and create a design that matches their style and preferences.

We offer cost-effective pricing without compromising quality, ensuring you get the best value for your money. Schedule a consultation by calling Statements In Stone, Inc. at 708-534-8780 and learn more about our fireplace design and installation services. You can also write to us through this online form.

We Provide Services to the Following Cities, Towns and surrounding areas in IL:
Contact Us for a Free Estimate