Water Features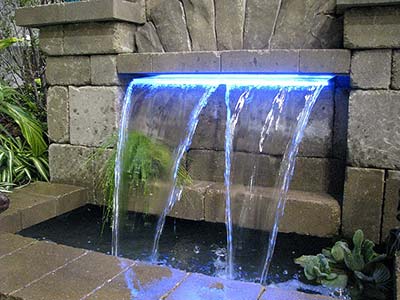 Yards and landscapes with water elements are more attractive and dynamic. Having water flow or cascade over rocks is a great way to add a soothing and refreshing element to your outdoor environment. Statements In Stone, Inc. is dedicated to delivering superior water feature services to our customers.
Whether you want something simple or more exotic, our professional landscape designers in New Lenox, Illinois, can help you design a water feature that complements your garden or outdoor space. It's refreshing to sit in a lush, water-filled outdoor setting.
Water elements of various kinds are also valuable additions to commercial landscaping. It's possible to install multiple water features in a bigger outdoor space, and we create unique waterscapes to revitalize and beautify any outdoor area.
Waterfalls
Waterfalls' flow, sound, and beauty are excellent additions to any outdoor setting. You have the flexibility of a more traditional waterfall design or a natural stone water feature that looks like a cascade. Waterfalls are a popular addition to commercial buildings because of their aesthetic value to expansive outdoor areas. Hire experts to install high-quality water features on your property utilizing modern techniques and materials.
Fountains
A vast range of fountain designs and sizes is available, making them a popular choice for gardens at homes and businesses. Adding a beautiful fountain to a small section of your yard can be a cost-effective way to uplift its appeal. As the highlight of any garden or landscape, a fountain can add a touch of grandeur and beauty.
Ponds
Ponds are becoming more popular among commercial and residential property owners to enhance their properties' visual appeal. These elements can be added to preexisting gardens, although they are more often included into new landscape designs. There is a valid reason why koi ponds are standard features in modern landscape architecture. The presence of elegant koi fish in a backyard pond creates an atmosphere of calm and serenity. It's worth the effort to keep your pond stocked with Koi fish and healthy water plants.
Streams
Water stream installations are beautiful in landscapes and gardens that aim for a more relaxed style. You could choose a winding stream and scatter river stones along the boundaries to influence the landscape significantly. The waterfall can be extended along the course of the stream if so desired. This makes the feature more complex; you could even plant grass around its edges.
Custom-Designed Water Features
We work hard to create great outdoor areas that look great and perform well. Our company uses time-tested materials and landscape supplies like natural stone, bricks, and veneers to develop unique, robust and long-lasting water features on our clients' properties. Since we customize our services, you can be sure that your water feature will be truly stunning in every way.
Our designers will plan your water features to align with your outdoor area's aesthetic and styling. We can tailor our services to meet your needs. For more information about our water feature design and installation and other services, please call Statements In Stone, Inc. at 708-534-8780 or write to us through this online form.
We Provide Services to the Following Cities, Towns and surrounding areas in IL:
Contact Us for a Free Estimate