Landscapes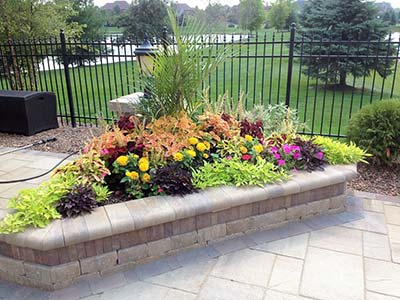 When you look at your landscape and feel that it has not reached its full potential, you will want to consider the type of landscaping to improve the look and functionality of your outdoor space. You will need the guidance and services of an experienced and accomplished landscaping company such as Statements In Stone to determine the best landscape features and achieve the perfect design and installation to transform your outdoors.
We are certified ICPI, Unilock, and Belgard installers and have over 25 years of industry experience to help transform your landscaping ideas and visions into reality.
Types of Landscaping Projects
We offer a wide range of landscaping services and can deliver the results you desire and deserve. While some are focused on improving functionality, others are geared towards aesthetic goals.
Our range of landscaping services includes:
Plantings: Plantscapes bring color, life, and vibrancy to any yard. The effects can grow manifold times when your plantscapes are planned and installed by the experts at Statements In Stone. You can also use shrubbery and trees to create privacy walls and accent borders. We help with planning and installing trees, perennials, shrubs, ground covers, and more based on your preferences and the local conditions.
Edging: We can help design and install various forms of edging to define your property or different areas. This includes steel, plastic, and brick edging.
Water Features: We specialize in landscape additions including ponds, fountains, streams, bird baths, and waterfalls. If you have any custom water feature ideas, we have the experience, skills, and resources required to create them.
Mulching & Decorative Stones: Whether you want to enhance your plant beds' health or aesthetics, we can help you select the types and colors of mulch and decorative stones.
Outdoor Lighting: A beautiful and functional landscape is meant to be enjoyed even after the sun goes down. Based on your landscape design, elements, and your personal preferences and lifestyle, we can design and install customized outdoor lighting for your property. Some of the popular options include spotlights, path lights, and solar lights.
Making A Difference
We are a full-service landscaping and hardscaping company in New Lenox, IL. Whatever your ideas or visions for transforming your outdoors, we have the expertise required to achieve your goals. All our projects begin with a free estimate and a 3D design so that our clients are fully confident about their projects before we get started. For more information about our services, feel free to contact us at 708-534-8780 or write to us.
We Provide Services to the Following Cities, Towns and surrounding areas in IL:
Contact Us for a Free Estimate