Inground & Fiberglass Pools in Frankfort, IL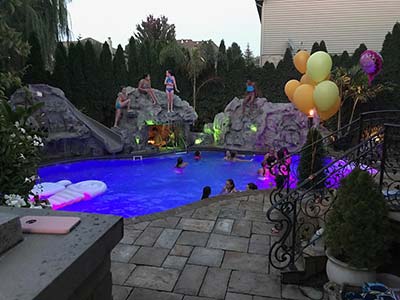 A swimming pool is a must-have to build the ultimate backyard paradise. In addition to providing relief from the sweltering summer heat, a properly planned and installed pool can also be a stunning addition to any property's landscape all year long. Statements In Stone has been well-known in the Frankfort, IL, area for its expertise in designing and constructing individualized pools for residents. From the planning stage through concept, inspections, and execution, you can put your trust in the knowledge and experience of our accredited designers and builders.
Swimming Pool Design Ideas
You can transform your backyard space into a classic, contemporary, natural, or exotic haven. Whatever your pool's theme; we can provide the ideal space for you to relax. First, we'll listen intently to figure out everything we can about your goals, requirements, and financial constraints. Trust us to lead you toward the most cutting-edge techniques and tried-and-true alternatives.
Details in the design make a huge impact when building a pool specifically for your needs. Taking a design from concept to completion requires a designer with significant experience. Statements In Stone Inc. has been in business for nearly 20 years. With our expert pool designers and builders at your disposal, we can build you the backyard paradise of your dreams.
Inground Pools
We're here to help whether you want to renovate an old pool or build a new one from the ground up. To help you organize the construction of your pool, we can provide you with a detailed timeline of the steps involved. When you hire us, you can be confident that the task will be done on schedule and exactly as requested.
All the pools we build are one-of-a-kind creations that cater to the individual needs of our customers. With our help, you can add a beautiful pool to your landscape and house, increasing its value, utility, and aesthetic appeal. The skilled architects and builders we employ will spare no effort to ensure the final product is up to your standards and more.
Fiberglass Pools
Swimming pools are often made of fibreglass since it is solid and durable. The delivery of your new fibreglass pool will include full assembly. Compactable materials are put around the shell when the water rises to fill the void effectively. You will be able to use your pool once the plumbing is finished. Once we add pavers to the surrounding and planned lighting elements to the area, you and your family can enjoy your outdoor spaces thoroughly.
Our qualified professionals are here to assist you at every stage, from brainstorming to completing the project. Our company's goal is to make it enjoyable for you to experience your ideas coming to fruition. We provide a range of pool construction ideas and carry out pool installations methodically.
We promise that all the pool's construction details will be thought out so that you won't have to deal with any unpleasant financial surprises. You can trust that we will always be upfront and honest with you and that the work we perform for you will be well worth the investment.
Custom-Designed Inground and Fiberglass Pools
The key to a successful custom swimming pool installation is using a carefully selected combination of design criteria and concepts. Whether you're unsure of where to begin or need help deciding on a final form, our expert designers will be there to advise you every step of the way.
If you are looking for high-grade in-ground & fiberglass pools in Frankfort, IL, please call Statements in Stone, Inc. at 708-534-8780 or send us your queries through this Contact Us form, and we will call you back soon to discuss details.
We Provide Services to the Following Cities, Towns and surrounding areas in IL:
Contact Us for a Free Estimate