Pavers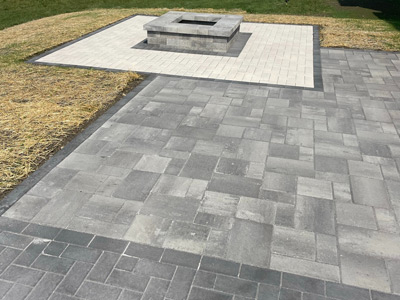 Due to their versatility and aesthetic appeal, pavers have emerged as the preferred material for diverse outdoor spaces and landscaping projects. Whether used in driveways, patios, walkways, or pool decks, pavers offer durability, easy maintenance, and a wide range of design options.

Their interlocking nature ensures stability and flexibility, making them ideal for fluctuating weather conditions. Paver stones come in various colors, shapes, and textures, allowing for creative customization that complements any landscape.

With their blend of functionality and visual charm, pavers have become the top choice for homeowners and landscapers seeking enduring beauty and functionality in their outdoor environments.


Expert Paver Design and Installation
We at Statements In Stone, Inc. deliver the finest paver design and installation in New Lenox, IL. Our experienced team brings unmatched expertise to every project, ensuring that your outdoor space transforms into a masterpiece of craftsmanship. We believe in the power of meticulous planning and creative design, tailoring each paver installation to your unique vision and needs.

Whether it's a stunning patio, a durable driveway, or an enchanting walkway, we employ the highest quality materials and precision installation techniques. With a dedication to excellence, we guarantee that our paver services will meet and exceed your expectations, turning your outdoor dreams into reality.


Types of Pavers We Install
Our company offers a diverse range of pavers for various landscaping and hardscaping projects. Our expertise extends to the installation of:


Concrete Pavers - Versatile and cost-effective, concrete pavers come in various colors, shapes, and textures. They work well for driveways, patios, and walkways, offering durability and easy maintenance.


Brick Pavers - These paver stones exude timeless charm and elegance, adding a classic touch to any outdoor space. They are ideal for creating traditional, rustic, or historic aesthetics in pathways, patios, and driveways.


Permeable Pavers - Permeable pavers are eco-friendly and environmentally conscious. They allow water to seep through, reducing stormwater runoff and promoting groundwater recharge.


Interlocking Pavers - Interlocking pavers feature a unique design that ensures stability and flexibility. They are ideal for areas with shifting soil or where easy replacement is desired.


Natural Stone Pavers - Natural stone pavers like flagstone or slate provide a unique and organic look. They are excellent for creating stunning, natural-inspired outdoor spaces like garden pathways or pool decks.


Some natural stone pavers include tumbled pavers, cobblestone, travertine, and granite.


Benefits of Pavers in Landscapes and Outdoor Living Areas
Notable benefits of pavers include:
They are highly resilient and can withstand heavy foot traffic and weather extremes.
They come in various colors, shapes, and textures, allowing endless design possibilities.
Individual pavers can be replaced without disrupting the entire area if damage occurs.
These products require minimal upkeep and are easy to clean.
Their non-slip surfaces make them safe for walkways and pool decks.
Permeable pavers reduce runoff and help with water management.
Paver stones enhance curb appeal and property resale value.
Pavers can be installed efficiently, minimizing project downtime.
They can be arranged in intricate patterns to suit any style or preference.
Pavers are suitable for driveways, patios, walkways, and more.

We provide high-quality paver installations at cost-effective pricing. You can schedule a consultation by calling Statements In Stone, Inc. at 708-534-8780 for information about our paver design and installation services. You can email us through this online form.

We Provide Services to the Following Cities, Towns and surrounding areas in IL:
Contact Us for a Free Estimate