Outdoor Living In Homer Glen, IL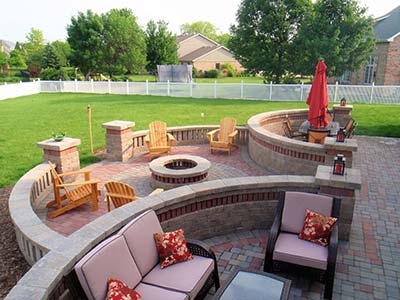 Statements In Stone's hardscape design-build services are geared toward maximizing your outdoor living space's aesthetic and functional potential. Our company has been serving the Homer Glen, IL region for over 25 years, and our staff has decades of expertise between them.
It's a complex undertaking to plan and build an outdoor living area. So, you must work with a company like ours. We have the resources and the workforce to handle such projects to specification. Our design staff can create an outdoor living space that you'll love, whether it's a kitchen, pergola, fire pit, or grill.
Longevity, sturdiness, aesthetic appeal, and practicality are all intentional design goals for these components. With this customized strategy and set of services, you can rest assured that your outdoor living space will reflect your style and preferences. We stand out from the competition because of our unbeatable mix of low prices, high quality, and dependable service. Our team will work with you to ensure the final product meets your needs and stays within your price range.
Various Outdoor Living Solutions
Your yard's focal point doesn't have to be a pool or hot tub — our creative architects may build an outdoor kitchen, patio, deck, or fire element to suit your needs. We also oversee larger outdoor living projects, which we use to improve the aesthetics and value of our client's properties. For your outdoor needs, we provide a wide range of services, including:
Outdoor Kitchens
An open patio kitchen is a great way to make the most of your outdoor space while adding aesthetic value to your property. Put in interlocking concrete pavers, and we can construct a beautiful outdoor kitchen if you like. Our experts can even plan and build a second, independent outdoor kitchen in another section of your yard. We consider the counter space, storage, movement pattern, plumbing, and lighting when designing your outdoor kitchen.
Decks and Patios
These additions are a great way to enhance your yard's practicality and visual appeal. Patios and decks, both new and old, are within our scope of expertise, and we can create and construct them from scratch or update your current setup. We install fire pits, water features, and the best interlocking concrete pavers to cover these areas to create welcoming, safe and attractive spaces for daily use.
Fireplaces And Fire Pits
We can assist you in designing spots for fire features to increase the aesthetic value and comfort of your outdoor living areas. We can build a fireplace out of brick or natural stone. Our team will ensure it harmonizes beautifully with your yard's decor. We can design and build retaining walls with seating and interlocking pavers to complete the environment.
Water Features
The presence of water enhances the aesthetic value and dynamic potential of outdoor areas. Some of our specialties include water features like streams, waterfalls, and Koi pools, and we can develop - construct them for you. Our experts will carefully organize the placement of these features to transform your outside space into the perfect place for your family to unwind.
Our hardscaping treatments will significantly improve your home's practicality, attractiveness, and resale value. You can always rely on us to produce the results you need, and our reputation in the industry is solid. For brick paver projects, we provide 3D drawings, up to 2 free design changes, and a 3-year installation warranty as part of our service. We always give our clients the best value, no matter how big or small the work.
If you are looking for high-grade outdoor living in Homer Glen, IL solution, please call Statements in Stone, Inc. at 708-534-8780 or send us your queries through this Contact Us form, and we will call you back soon to discuss details.
We Provide Services to the Following Cities, Towns and surrounding areas in IL:
Contact Us for a Free Estimate