Outdoor Living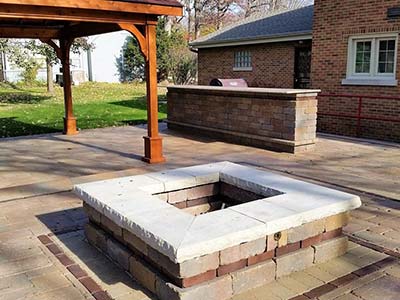 At Statements in Stone, we believe that the best and most functional outdoor spaces don't need to be showy and elaborate. Our company has created a reputation for itself as a leading company in the outdoor living, and hardscaping industry in New Lenox, IL, Patios, decks, and outdoor kitchens are just some of the structures that increase a yard's usefulness, enhancing your property's value. However, it is critical to make well-informed decisions and have capable specialists like us design and install these components. Although the visual appeal is vital, it is not enough; your outdoor living areas must also be practical, long-lasting, and easy to maintain. The following are just some of the outdoor living options we provide while focusing on all these aspects.
Outdoor Kitchens
Any home would benefit from having an outdoor kitchen; it extends the interior living spaces into the great outdoors, lending your property an expansive and open look. Additionally, you can spend time in the yard with your family and friends while grilling and cooking food. We are a local hardscaping and landscaping company with skilled and competent professionals who can create fantastic outdoor kitchen plans and layouts for you. These will be created to go along with your property's architectural elements. We design unique outdoor kitchens that are as practical as they are durable. Read More About Outdoor Kitchens »
Outdoor Fireplaces
A fire feature is a popular addition for backyards. You can use these outside areas year-round if the backyard has a fire feature. The longevity of a fireplace is assured by a well-planned and constructed fireplace made of high-quality materials. We will create a fireplace with stunning finish that will become your backyard's focal point. For your custom outdoor fireplace, you can choose from natural stones like bluestone, sandstone, granite, and basalt; brick is also a great option. Our team can create a custom feature that complements the architectural features of your yard and home using concrete with natural stone veneer. Read More About Outdoor Fireplaces »
Outdoor Firepits
A fire pit is more compact than a traditional fireplace. It can be the highlight of your garden or blend in with the scenery if that's what you like. You won't have trouble viewing your backyard because the fire pit won't take up too much room or obscure any views. You can ensure quality when you work with professionals like us for your outdoor fire pit installation. Read More About Outdoor Firepits »
Outdoor Barbecues
Our outdoor grill design and installation services are second to none. We can install this feature in your backyard as part of a new outdoor kitchen or as an addition to an existing one. We're available for any task, no matter how big or small. Choose one that stands alone or build it into your outdoor kitchen island. We'll ensure this factor is considered in the planning stages. Pizza pans and rotisseries are the kinds of add-ons you can choose.
Pergolas
We provide turnkey outdoor living solutions, including constructing a patio, deck, and shade structures like pergolas. Among the many possibilities for outdoor shade structures, a pergola is a great way to provide welcome shade on a patio or in a backyard. We modify the pergola's shape so that it complements rather than clashes with the existing architecture of your house. We understand that each client will have specific ideas about how they want their outdoor spaces to be, and we work with you to help you create superb structures and installations.
Cost-Effective Outdoor Living Services
Our experts work to provide durable amenities that will last for many years while also providing you and your guests with a setting to thoroughly enjoy your yard space. The team will arrange the fireplace and its seating zones in the proper location and layout. We provide our customers with exceptional value and innovative hardscaping solutions.
By fusing our creativity, material expertise, and state-of-the-art installation methods, we can design stunning outdoor spaces that significantly increase the value of your house. We ensure quick project completion and outstanding customer service so that you can enjoy your new outdoor spaces as soon as possible.
For more information about our outdoor kitchens, fireplaces, fire pits, pergolas, and outdoor barbeques, please call Statements in Stone at 708-534-8780. You can also write to us via this Online Form, and we will contact you soon to discuss your requirements for a unique and functional outdoor space.
We Provide Services to the Following Cities, Towns and surrounding areas in IL:
Contact Us for a Free Estimate