Custom Pool Builder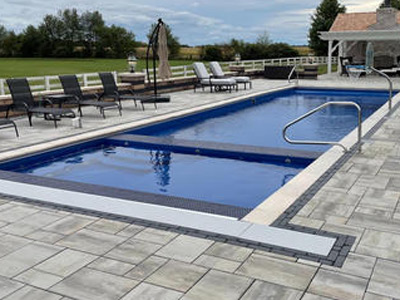 A swimming pool is a must-have feature for completing your outdoor oasis. And it cannot just be any pool. It has to be a custom pool designed to your specifications, needs, preferences, and available space. At Statements In Stone, Inc., we provide custom pool design and build services addressing all these factors while keeping your vision and budget in mind.


Building The Perfect Pool
A custom pool can provide relief from the summer heat, entertainment and relaxation for all ages, and beautiful views all year round. Besides, it is an investment that will add to your home's value.

Statements In Stone is your resource for high-quality, custom pool design and construction services. We have over two decades of industry experience and specialized experience to transform any backyard into an oasis. From the initial consultation to the design phase to the completion of your pool's construction, you can rely on our experienced, trained, and qualified pool builders to bring your ideas and vision into reality.

An elegant pool environment should go beyond reflecting your aesthetic preferences. We offer custom pool-building services because we also believe that a swimming pool should also blend into your family's lifestyle.

We can create a pool and a poolscape that creates the perfect backdrop for all the outdoor activities you love to engage in. The kinds of activities our clients often love to enjoy including:
Relaxing in a shady spot
Barbequing with friends and family
Playing games
Phases Custom Pool Building
Our custom pool-building process comprises the following phases:


Design Phase: Our expert pool designers will work closely with you to inspect your property before creating a custom pool plan. We rely on our experience, knowledge, and skills to develop a pool design that addresses your functional and aesthetic goals while staying within your budget. We use 3D design systems to enhance and enrich our pool design process.
Reviewing: We will require you to review the pool design and provide us with your feedback and input. Once all inputs are integrated and queries are addressed, we finalize the design phase.
Finalization: Once the pool design is finalized, we start the building process.
Whether you prefer a classic, exotic, natural, modern, or basic pool design, we have the expertise and experience needed to create the perfect pool for you and your property. Our initial consultation is focused on carefully listening to you and collecting all the information related to your ideas, visions, and functional requirements, and understanding your budget.

Some of the most important factors we will consider when creating your custom pool include:
Pool depth and size
Aggregate and interior surfacing
Layout that includes decks and transitioning depths
Coping
Decking
Pool equipment and additions
Spa iterations
Recreational features
If you want to learn more about our custom pool-building services or want to discuss your ideas, feel free to get in touch with us at Statements In Stone, Inc. You can give us a call at 708-534-8780 or send us a message.
We Provide Services to the Following Cities, Towns and surrounding areas in IL:
Contact Us for a Free Estimate