What To Look for In a Custom Pool Builder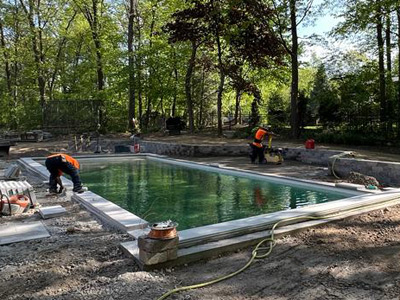 Building a custom swimming pool is an exciting and significant investment that can transform your backyard into a personal oasis. However, at Statements in Stone, Inc, finding the right pool builder is vital to ensure a seamless and successful project.

With numerous options available, knowing what to look for in a custom pool builder is essential to make an informed decision. These are the key factors to keep in view when selecting a pool builder who can bring your dream pool to life.


Experience and Reputation
The first and foremost aspect of evaluating a pool builder is their experience and reputation in the industry. Look for a company with a proven track record and several years of experience designing and constructing custom pools. A reputable builder will have a portfolio of completed projects and references from satisfied clients. Online reviews and testimonials can also provide valuable insights into the builder's professionalism, craftsmanship, and customer satisfaction levels.


Expertise and Design Capabilities
A custom pool builder should have the necessary expertise and design capabilities to create a pool that aligns with your vision. Assess their design portfolio to gauge their creativity, attention to detail, and ability to customize pools to suit individual preferences. Look for a builder who can offer various design options, materials, and features to ensure your pool is tailored to your specific needs and aesthetic tastes.


Licensing and Insurance
Ensure that the pool builder you choose holds all the licenses and certifications your local jurisdiction requires. Valid licenses indicate that the builder adheres to industry standards and regulations, ensuring high professionalism and competence. Additionally, verify that the builder carries adequate liability insurance to protect you from potential liabilities during construction.


Clear Communication and Transparency
Open and transparent communication is vital for a successful partnership with a pool builder. Pay attention to how the builder communicates with you during the initial consultation and throughout the project. They should be attentive, responsive, and willing to listen to your ideas and concerns. A transparent builder will provide a detailed contract outlining the scope of work, project timeline, and cost breakdown, ensuring that both parties clearly understand the project.


Quality Materials and Construction Standards
A reputable pool builder should prioritize using high-quality materials and adhere to strict construction standards. Inquire about the materials they use for the pool shell, equipment, and finishes. Look for builders who partner with reputable suppliers and manufacturers known for their durability and longevity. A well-constructed pool built with quality materials will enhance the overall aesthetics and ensure long-term durability and functionality.


Warranty and After-Sales Service
A reliable swimming pool builder stands behind their work and offers a comprehensive warranty on the construction and equipment. Inquire about the warranty terms and duration for different components of the pool. Additionally, ask about their after-sales service, including maintenance and repair options. A builder who provides ongoing support and assistance will give you peace of mind knowing that your investment is protected and well-cared for.

If you are looking for a local custom pool builder, you are at the right place. For more information, please call Statements in Stone, Inc. at 708-534-8780 or send us your queries through this Contact Us form, and we will call you back soon to discuss details.


We Provide Services to the Following Cities, Towns and surrounding areas in IL:
Contact Us for a Free Estimate